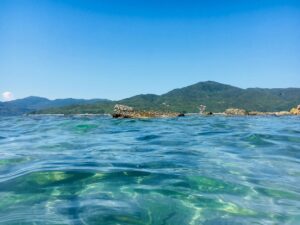 The Most Unique marine environment in Hong Kong that very few International visitors ever see. We explore the inner islands of Shelter Bay from Sai Kung beach. The two main islands we visit are Sharp & Kau Sai Chau. Our journey takes us over coral reefs (we snorkel there), through sandy mangroves, to deserted beaches for a swim and relaxation. Includes lunch.
In Hong Kong's distant past a series of violent volcanic activities occurred. During this period, a giant volcano of over 20km in diameter was situated in the region now known as Sai Kung. This huge volcano had a series of eruptions, ejecting a huge amount of volcanic ash and lava.
These formed the distinctive and dramatic islands that you see today. Over time the hollowed-out volcano collapsed and subsided forming a caldera. Sharp Island was once at the edge of this huge caldera and is a modern reminder of the natural events of the ancient times that created Hong Kong.