April 30, 2021
Our Beginnings...
Mountain Biking Asia was founded in the autumn of 1984, when seven daring adventurers set off to cycle from Hong Kong to Shanghai. Fresh and possibly a little naïve, our combined knowledge of the Chinese language was "Fried Rice", Fried Noodle" and "How are you?" After a week of traversing and thoroughly enjoying our cycling tour, we were stopped one day, by the Chinese authorities. Apparently we'd broken a long list of laws, including travelling outside of the Open Cities of China. We have learned a lot since that time.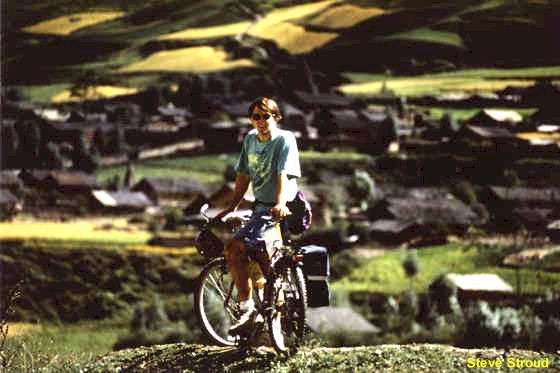 This photo of founder Tim Obendorf was taken in the Min River Valley of North Sichuan Province 1995
The experiences we shared on that initial trip were "once in a lifetime." The simple kindness of the Chinese villagers, the beautiful countryside, and the fun of riding side by side with the Chinese, were only the beginning. Amazingly, in spite of the rapid changes in China and Asia over the last three decades, we still enjoy these experiences on our tours today.
In 1986, China shut its doors to foreigners with their own bikes. This came as a blow to all cyclist adventurers, and prompted us to purchase bikes and station them in various cities throughout China. In more recent years, the bike import restrictions have been relaxed and many of our participants can now bring their own bike again. Nevertheless, we still maintain a fleet in various locations throughout China and Asia.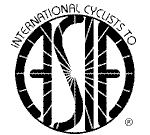 Our beginnings were as "International Cyclists to Asia" and this logo and branding was used up until 2004 when our new branding Mountainbikingasia.com and logo began to transition in.
We have focused on developing relationships throughout Asia, which has resulted in creating tours with you, the adventurer, in mind. In addition to our ever-growing list of China destinations, we've added Malaysia, Vietnam, Mongolia, Thailand, Taiwan, New Zealand, the USA and Europe.
Now Cycling and Hiking all over the place...
Our tours in China and Malaysia have been expanded further, with the inclusion of walking tours. There are incredible places to see and people to meet while hiking the Tiger Leaping Gorge of Shangrila, the Wild Wall (original Great Wall), or climbing S.E. Asia's tallest mountain - Mt. Kinabalu in Sabah, Malaysia.
The philosophy of our tours has always been one of wanting to learn from the Chinese and other cultures, providing an opportunity to appreciate their culture, history, and lifestyles. Our hope is that you will enjoy a fun-filled, rewarding experience, gaining new insight into the Asian peoples and the great nations they represent.
Looking forward to having you along,
Tim Obendorf
President
P.S. Our Language abilities have greatly improved!
P.P.S Mountainbikingasia.com's Chinese name translated is "Jumping Wheels Asia Cycling Tours" ( It sounds better in Chinese)
Mountainbikingasia.com operates under Asia Link Inc., USA Our tours are sold direct online, through travel agents in Hong Kong and China as well as Viator, Expedia and other online platforms.
Contact us

Mailing:
GPO Box 5836
Salem, Or 97304
USA

Tel: +1 503-991-5193 This number is also our WhatsApp
Hong Kong Mobile Office: +852 92797467
(not good for quick contact - voice mail only)